THE MATTHEW MILLHOUSE SALUTE
Annual charity event in memory of Terese's late husband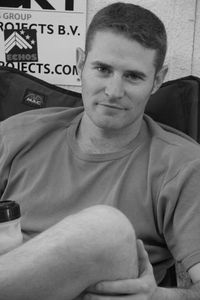 WELCOME TO THE MATTHEW MILLHOUSE SALUTE 2019!
Challenge yourself or a team to either run, cycle, kayak, pack march or walk, from and to Bellerive Beach Park! Help raise money and awareness towards families coping with issues arising from depression, anxiety, peri-natal depression and post traumatic stress disorder, supporting The White Cloud Foundation. Participants from 2017 and 2018 raised almost $20,000 which allowed White Cloud to bring its Meals for Mums program (a practical support program for women at risk of, or experiencing peri-natal depression, that complements clinical treatment) to Southern Tasmania and launched in September 2018! 
Trooper Matthew Millhouse served in the Armoured Core of The Australian Army for four years, which included two tours of Iraq. Matthew passed away in August 2015 from Young Onset Dementia, which was triggered by a traumatic brain injury he incurred in 2004 when his troop was targeted by a car bomb.
How To Help Us Fundraise
When you or your team sign up to participate in the Salute, you will receive an Everyday Hero Fundraising page to register yourself and share the link with your friends and family to sponsor you! Out of 70 participants in 2018, 11 individuals and teams raised over $5,000! Our target in 2019 is for all participants to raise at least $100 each.  If we have 100 participants then that is $10,000 right there! It's people power and we need you! Let's make 2019's total the biggest ever and continue supporting Tasmanian's who need help.
About The Matthew Millhouse Salute
Registrations open at 7.30am. At 8am there will be short welcomes from organisers and key speakers including our Patron Major Garth Callendar (Matthew's crew commander in Iraq in 2004 and successful author of After the Blast), followed by a short military tribute to Trooper Matthew Millhouse (reading of The Ode, The Last Post and a minute's silence conducted by Tasmanian Army Reservists) as a fitting send-off to participants. Legs will begin departing shortly afterwards. There will be drinks stations on routes and egg and bacon rolls and hot and cold drinks available to participants at the finish line!
PICK YOUR CHALLENGE BELOW OR VOLUNTEER/DONATE:
Run Legs and Family Run/Walk Leg
This year there are three run legs to choose from depending on your running fitness levels - 4km, 12km and 16km. All following the beautiful Derwent River's edge from Bellerive Beach Park towards Simmon's Park, Lindisfarne and back.  The 16km leg goes the full distance of the route to Simmon's Park and back, the 12km leg turns around under the Tasman Bridge, and the 4km leg turns around at Kangaroo Bay and is particularly for the family/kids who can choose to run or walk. All registrations include a Salute t-shirt.
Bike Leg
The bike leg this year is slightly shorter than last year at just over 40km, and more manageable for those less experienced with cycling (not as many big hills!), but still provides a challenge and a pleasant ride.  Departing Bellerive Beach Park and heading towards Howrah and Lauderdale, through Acton Park towards Cambridge, around Mt Rumney and back towards Bellerive Beach. All registrations include a professional racing jersey.
Kayak Legs
There are two kayak legs on offer this year. A full course of 10km departing Bellerive Beach and following the Derwent River down to Anzac Park Point at Lindisfarne, and returning to Bellerive Beach. The shorter course is great for those less experienced or adults kayaking with their children, a 4km course turning at the Rosny Point opposite Bellerive Quay. All registrations include a Salute t-shirt.
Pack March
The pack march will again follow the same route as the runners and pack march a 12km course from Bellerive Beach Park to under the Tasman Bridge in Montagu Bay and return. All registrations include a Salute t-shirt.
Volunteer, Donate or Gift A Registration via Gift Voucher
Unable to participate but would like to help in another way? Want to help a friend or family member by gifting their registration cost for Christmas, a birthday present or just because? You can register to volunteer to help out on the day, make a donation towards The Matthew Millhouse Salute and The White Cloud Foundation or buy a gift voucher! Select the Volunteer, Make A Donation and/or Gift Voucher ticket options.